Paris
It may seem cliché, but Paris will always be the most beautiful city in Europe to us.
No matter how many other cities we see, we still come back to the City of Lights and gaze upon it with wonder and awe.
Walking through the city streets at night is one of our favourite things to do.
Venice
Many people don't love Venice, but we think it is because they have never stayed there long enough.
We would watch cruise lines and bus tours come in for a day and zip right back out before they had a chance to really explore Venice.
We spent six days total in Venice and loved getting lost in its back alleys, taking boat trips through the canals and enjoying quiet drinks on a bistro terrace.
Prague
We had often heard that Prague was beautiful and when we first laid eyes on her, she didn't disappoint.
Yes it is busy and crowded, but if you step out of the main trail, you'll find quiet spots to grab a bite or a pint.
If you wake up early and walk around the city, you will have it all to yourselves.
Dave and I were amazed to see that people didn't really get started until after well after 9:00 am giving us plenty of time to enjoy the beautiful architecture in private.
San Marino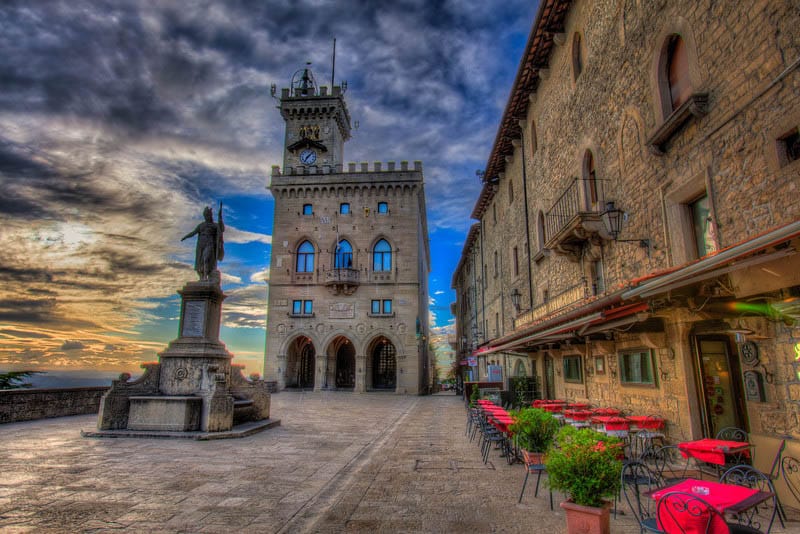 San Marino is a city and an independent republic in the middle of Italy.
It sits high on a hill overlooking possibly the most beautiful view we've ever seen from a city.
It overlooks the Italian Apennines, rivalling the beauty of Tuscany.
San Marino is the oldest surviving sovereign State in the world and it's known as the Serene Republic. Serene it is indeed.
Florence
Florence is truly a city of art. With every turn you make you will run into sculptures or intricate etching in the architecture.
It's a city that you can walk slowly through and enjoy each and every building you lay eyes upon.
The Duomo stands proud in the centre of the city and endless cobblestone streets weave around allowing you to get lost and simply enjoy.